If you run Addon without registration you will receive the following pop-up notification: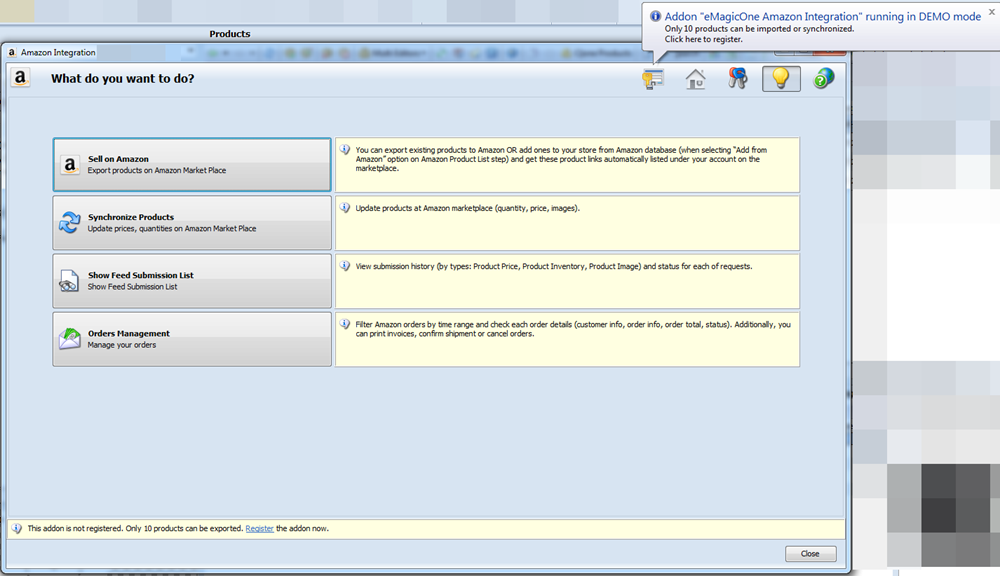 You are able to register addon directly in the Addon Wizard (1) or in the Preferences section (2) of Store Manager.
1. Press the option which calls the Registration form in addon's Welcome page:
Specify the license key in the form which appears:
Press 'OK' to activate new license information. 
2.  After downloading Store Manager on your computer and configuring all required settings, follow to the Addons section in Preferences tab and find Amazon Integration plug-in from the list of existing ones.
Follow these steps to make addon registered:
1. After purchase you receive on your e-mail registration notification with License Number (RegCode) which helps activate the addon.
2. From the list of available addons in the 'Preferences' section find Amazon Integration and click on the registration status. The following window will appear:
3. Enter the license number (key) from your e-mail and press 'OK' button.
4. Store Manager will check the validity of the key and the status from 'Unregistered' become 'Verifying...'
5. After verification, if the license key is active, you will see green colored text "Registered".